Handmade Wholesale – Part 1 – What is wholesale?
---
Hello Makers!
I'm so happy you're here. I hope this series can shed a little light on the world of wholesale for you.
I'm not a handmade business owner but I am a handmade business enthusiast.
I've had a few variations of an Etsy store, two of which started to really kick off when I fell out of love with what I was making and wanted to start something new, so I stopped selling.
I was looking for my next "thing" to turn into a viable business when I realised that the common thread in everything I did was, Handmade. Maybe I don't need to have a handmade product to have a "handmade" business. Realising this was the best thing I ever did. These days my goal is to promote and support Australian makers, artists and designers, – like you – to reach their goals. That's why I started the @CraftedAus (Crafted Aus) Instagram account.

I believe I have a lot of knowledge in the area of handmade wholesale, due to my retail experience and my slight obsession with handmade, but I am by no means am I an expert.
To create these articles I have gathered information from retailers who currently sell handmade products and makers who are currently or are interested in selling to stores. I'm here to bring you the facts, with a bit of my personal opinion thrown in there too of course! 🙂
This is the first of many articles in the works, all designed to help you and your handmade business grow. If, after reading this, any of these topics are still confusing to you or there's anything you would like to know more about, please don't hesitate to get in touch. I'm happy to help, and if you do have a question, it's quite likely you're not the only one.
Before we go any further, I want to say wholesale isn't the right move for everyone.
After reading this, if wholesale doesn't feel right for you, don't force it. It's not the be-all-and-end-all of a product-based business' success. Wholesale requires a lot of additional hard work and dedication. If you're not in a position to give more time and love to your business, then it might not be the best move for you right now.
In this first article we'll look at why you might want to sell wholesale and the basics of pricing.
In upcoming articles we'll cover topics like how to approach a retailer, what a retailer needs from you, creating your catalogue and lots more!

So let's dive in!

What is wholesale?
Wholesale is selling your goods in bulk to retailers for them to sell onto their customers in their stores. The retailer is granted a reduced cost on these goods, often in exchange for them buying in bulk quantities and meeting minimum order requirements.
Wholesale can be a great additional revenue stream and another way to get your products in the hands of people who love them.
Why sell wholesale?
Exposure
Having your products available in stores gives your brand exposure to audiences that may never have come across your pieces before. A store stocking your product is a public endorsement to the world that they believe in your brand and your product.
This may also lead to those people buying straight from you in the future. That being said, you need to be careful not to pull sales away from your stockists, as this can be perceived as a conflict of interests.
Repeat sales
A retail customer will commonly purchase only one item at a time, and they may not be a return customer. When you make a sale to a retailer, provided your products sell well for them, there's a very high chance they will return with a second order. Sometimes if a product isn't selling well in a store, it has nothing to do with you or your product. It might just be the wrong fit for that store, and that's ok. However, there are things you can do to give your products the best possible chance of being popular in stores. Packaging, staff training, samples, the list goes on. We'll look deeper into this further down the track.
Large orders per customer
A lot of makers questioned why they would want to sell wholesale, when you're making less money per piece by doing this. While it's true that you are making less per item, you are also not having to focus on selling to one retail customer at a time. When selling wholesale, each sale you make will generally be a large, bulk purchase that meets a minimum price that you set.
Also, if you're pricing structure is set up well, you will still be making enough profit from these sales to make it worth your while.

Pricing is a big topic. We'll go more in depth with this at a later date but here's the basics. To sell wholesale you need to get your RRP (recommended retail price) to a dollar amount that allows for a wholesale price that still puts money in your pocket at the end of the day. Here's how you get there…
Your creation cost = material costs + labour + packaging + overheads (rent, electricity…)
Your wholesale price = creation cost + profit
Your RRP = typically 2x wholesale price (this is what you should currently be changing your customers)
The amount of profit you add to creation cost to get your wholesale price is totally up to you.
Work out how much you want from each item to make it viable for you to make them. This will all become easier too when you do some research and look at the market value of your product.
Find your market value
Market value is the price the consumer will expect to pay for your product.
To find your market value you'll need to do some research.
Look at other products in your niche and compare their features, benefits to yours then compare your prices.
For example, if you sell candles, Does yours have a longer burn time? Are their vessels a stock standard design and yours is unique? Maybe your scents are a little nicer than theirs? Look at how your product compares in as many ways as you can. This is how you will determine the market value of your product.
Not everything you produce needs to be offered to your wholesale customers.
If you can't get the creation cost down low enough to make a profit selling at a wholesale cost, maybe that item should only be offered through your own retail channel.
If your wholesale customers see you selling these items and question why that product isn't on offer to them you can simply explain to the retailer the items are too expensive to produce to allow for a wholesale price.
Production costs too high to sell wholesale.
If your pieces are too expensive to produce perhaps think about developing a simplified collection that is specifically for wholesale. Look at your costs and what you could cut back on. Could you simplify your packaging? Could you use a slightly more cost effective material? Simpler designs?
NEVER EVER EVER undercut your retailers.
If you are planning a sale on your online store that is open to public, offer the same discount to your wholesale customers so they have the option of passing that sale onto their customers too. Your stockists can do great things for your business so you should respect theirs.
One retailer I spoke with commented on this exact topic.  
"… It is also a huge problem when the suppliers who sell directly offer deals and sales to customers and forget the retailers can't match these offers because we didn't get a sale on the wholesale price. You would be surprised at how many phone calls I get from people wanting me to match online sales from the suppliers own websites. And I can't. I would constantly lose money."
I'm not saying don't do sales, just be courteous and offer a sale price to your wholesale customers too.
Well I think we should leave it there for now.
There's still so much to cover but I don't want to through it all at you at once.
I hope this post was helpful! Stay tuned for the next instalment. We'll look at a few things you need to get sorted before approaching retailers like creating SKUs and minimum orders and what should be in your range.
If you have any questions about this article or if there's anything specific about wholesale you would like to know please don't hesitate to get in touch! I've just opened up the Crafted Makers group on Facebook. If you'd like to chat about any thing handmade business please head over and join the group. Can't wait to see you there! Join here!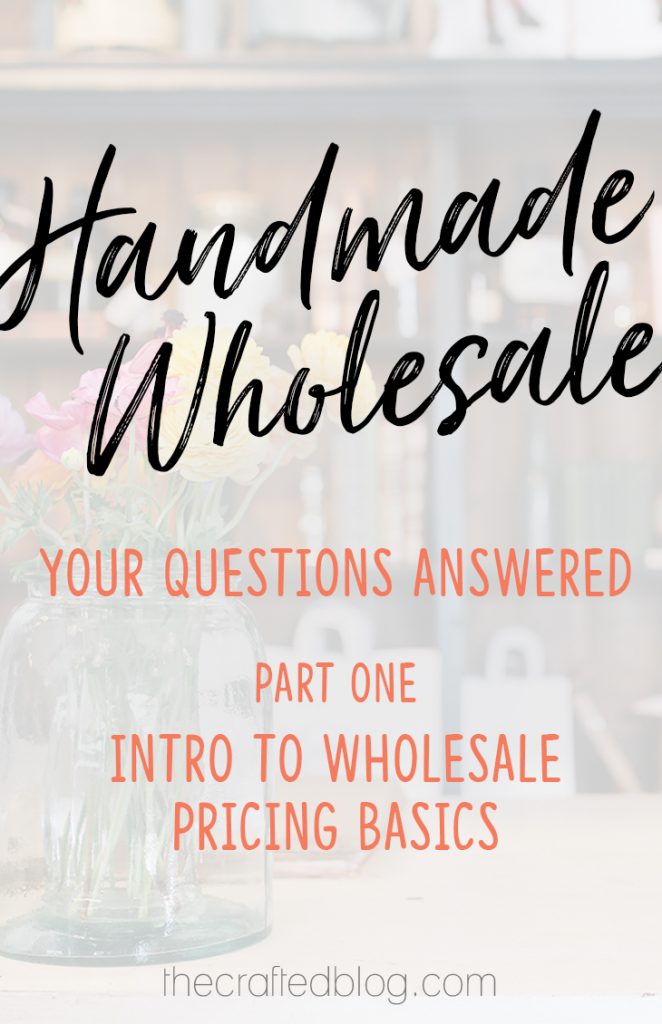 Make sure you don't miss any future articles, join my Handmade Wholesale e-news so you don't miss a thing!