Interview with Georgia of Nice Digs
---
I'm so excited about this one guys! I feel like I say that at the start of every interview but it doesn't make it any more true…
Georgia is an amazing creative lady with a wonderful brand that services the needs of trendy pups and their owners. Nice Digs.
Not only does this interview have awesome designs but it's also got super cute dog. What more could you want?? 🙂
Enjoy!
Georgia and her hansom pup Checkers
Tell us a little about yourself, who is Georgia?
I'm a Fashion and Textile designer by trade but I've always wanted to build something for myself. After graduating with a bachelor in Fashion Design at RMIT, I did a few stints over in Europe, interning & training further before returning to Melbourne. Over the past few years I've worked for numerous Australian fashion brands focusing on print and textile design. After meeting a rescue dog called Checkers through an online shelter and rescue pet directory, it was love at first sight. I struggled to find dog products that fit with my personal aesthetic and suited our home hence the birth of Nice Digs. Checkers now sits proudly beside me as the Assistant Creative Director and an obvious muse to the brand.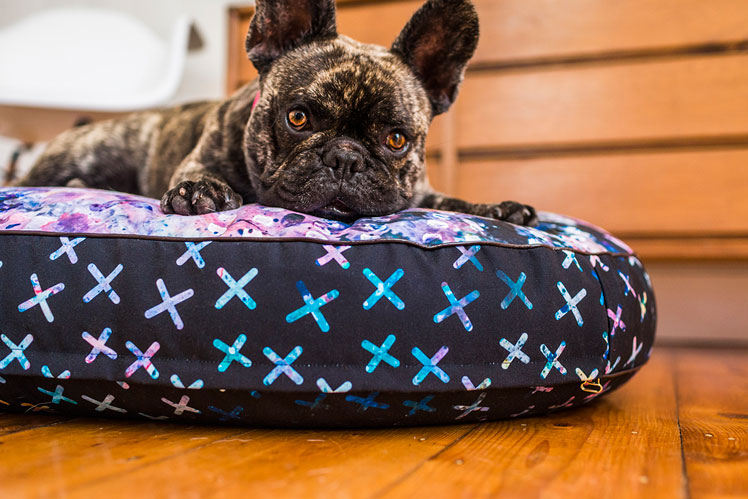 And what about Nice Digs. How would you describe the business to someone you just met?
Nice Digs offer high quality lifestyle goods for the discerning modern dog owner. Our philosophy is to combine durability and contemporary design that compliment the home, offering unique dog products with a strong commitment to hand crafted goods. Nice Digs beds are proudly designed, printed & made in Melbourne. Our beds are made of easy-care, dog friendly fabric that has a soft, cozy touch yet is hard wearing and durable. Evolving with the seasons, we offer unique products that are inspired by current trends. Every print is a NICE DIGS exclusive. We also offer a range of luxury dog collars and leashes that are made from the highest quality leather so your pooch will look great while being super comfortable.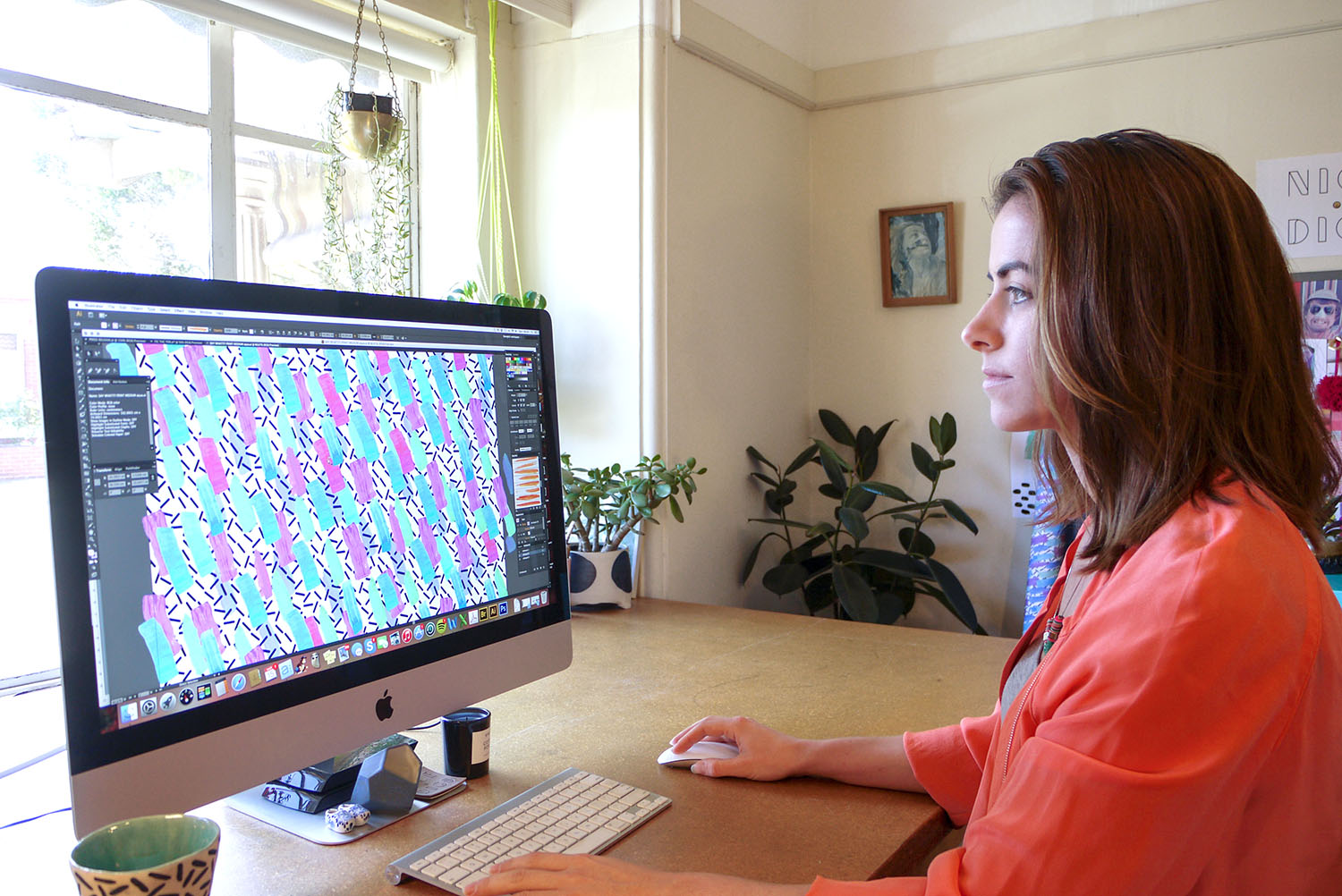 What's your workspace like?
I have a light filled studio within my home where all the magic/madness happens. Plants, paintings and special objects surround my large (but never large enough) pattern makers table and trusty Mac and I always have Checkers at my feet.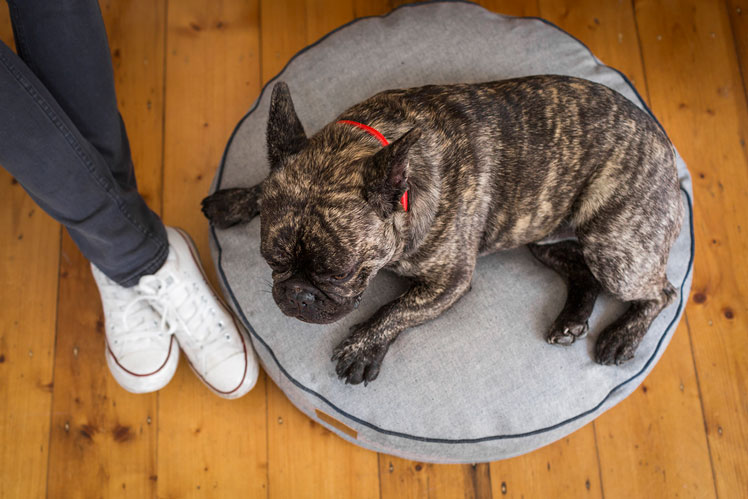 You come from a background in Fashion and textile design. When you where studying, did you ever think that one day you would be using your skills to make goodies for trendy pups?
Not at all! But surprises like that make life interesting! My focus and direction towards textile and print design happened naturally over time as my interests shifted. Having said that, I could not have achieved what I have without a strong knowledge of fabrics, production and pattern making that I learnt through my Fashion Design training.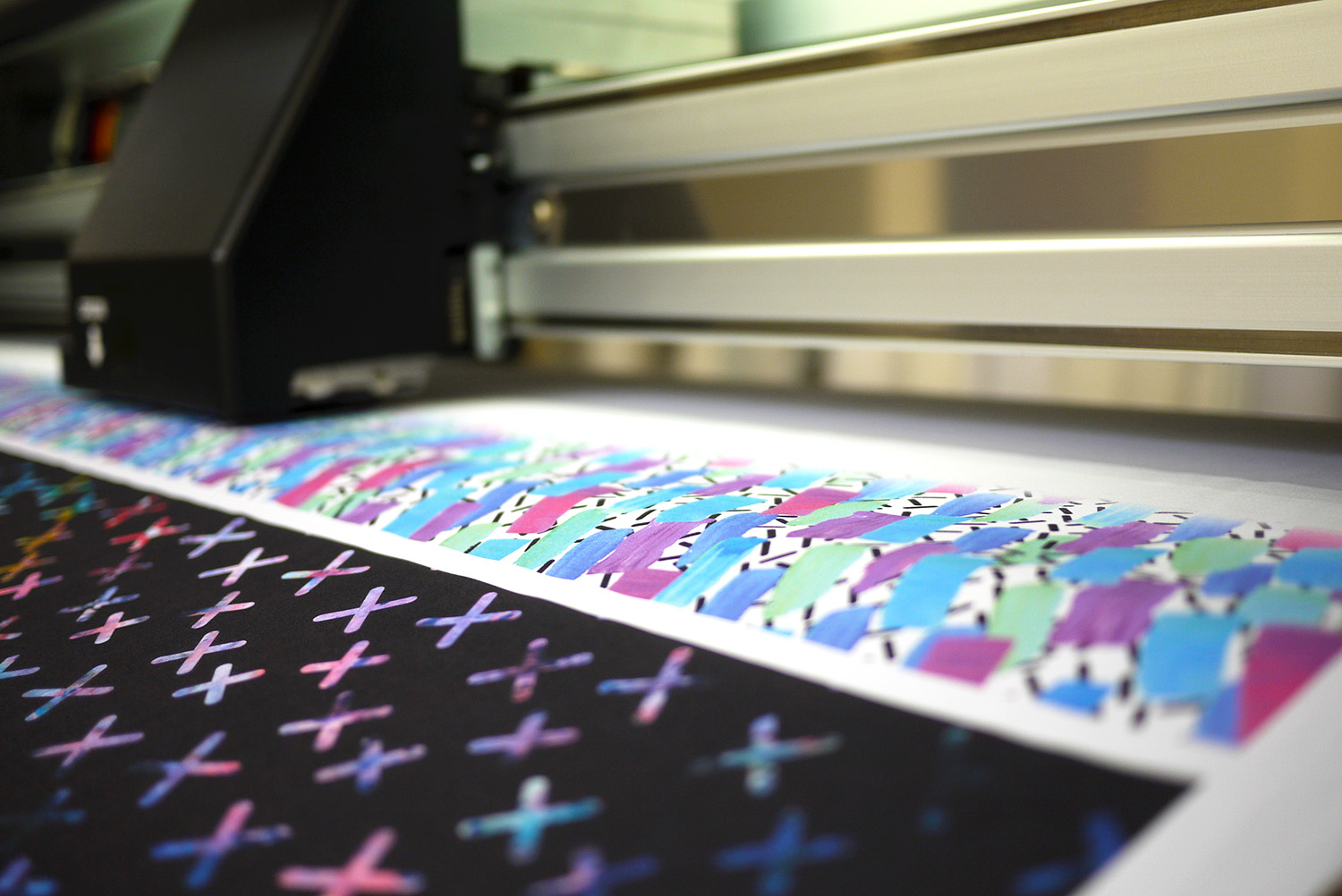 Can you give us a little glimpse into your design process? How does a piece go from an idea in your head to a physical piece?
Usually I have most of my ideas at night, as I'm getting ready to fall asleep. I'll marinate on them for a while and start playing with designs and patterns and just see what sticks. I strive for simple, contemporary design but above all else, it must be practical. Once our designs are confirmed, our fabric is printed locally and then our local production team will start manufacturing.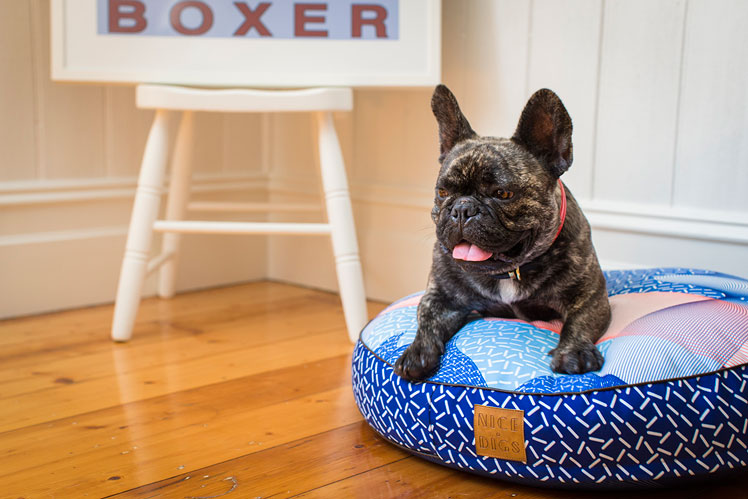 If you happen to fall into a creative rut, what do you do? 
Whenever I'm struggling in a creative rut it's usually because I'm over-tired and over-worked. The best thing to do is take a break, go for a walk, be social, have a cuddle with Checkers and just log off for a bit.
These guys are one of my personal favourites. Made from vintage blankets. Brilliant! 🙂 – Dom
What inspires you?
I'm a very visual person so I gravitate toward strong patterns, colour & repetition. My love of fashion and textiles will always be a driving force in my designs and of course, my dog Checkers inspires me to create cool things that she likes and I do too.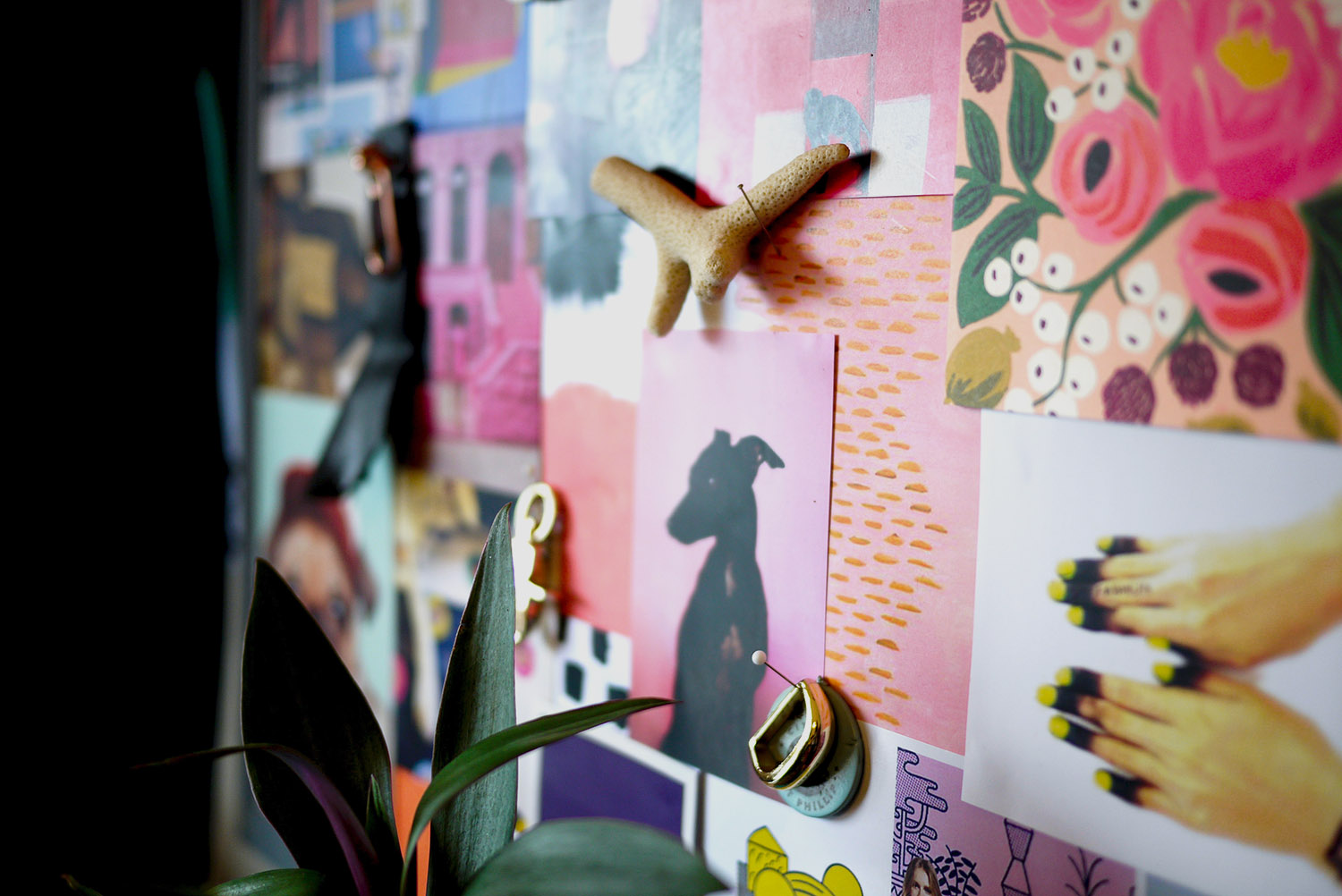 Any trends you're loving?
Colours, colours, colours! and clean abstract patterns. I love how fun and expressive fashion and home wares are at the moment.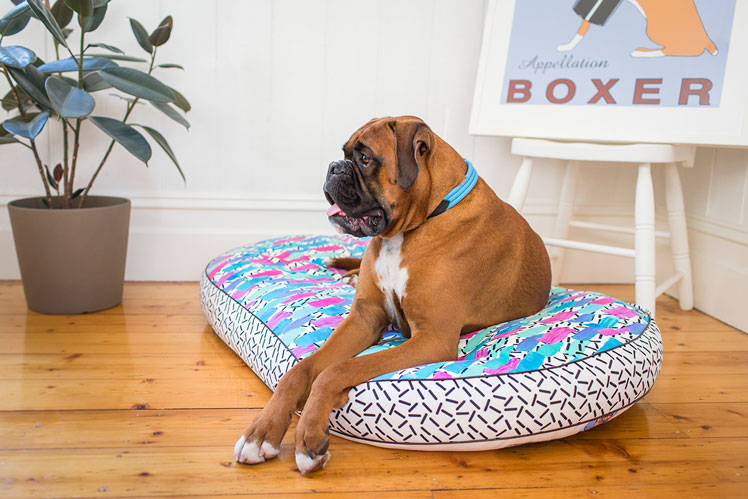 Do you have a favourite piece in your collection?
I'm very proud of our entire bed range! They're just so comfortable with their lush supportive cushion inside and luxurious covers made of soft, easy care fabric. Of course I love them all but if I had to choose one of the designs, it would have to be our Harlesequin bed.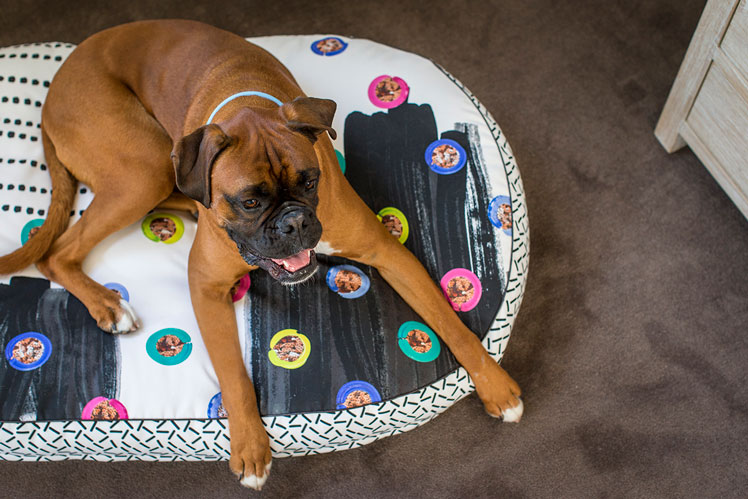 If you could only have one breed of pup for the rest of your life what breed would you choose?
For me it's not really about a breed as such. I think there's nothing better than having a rescue dog. I get so much enjoyment from providing a happy and healthy life for a dog that may not have had that previously.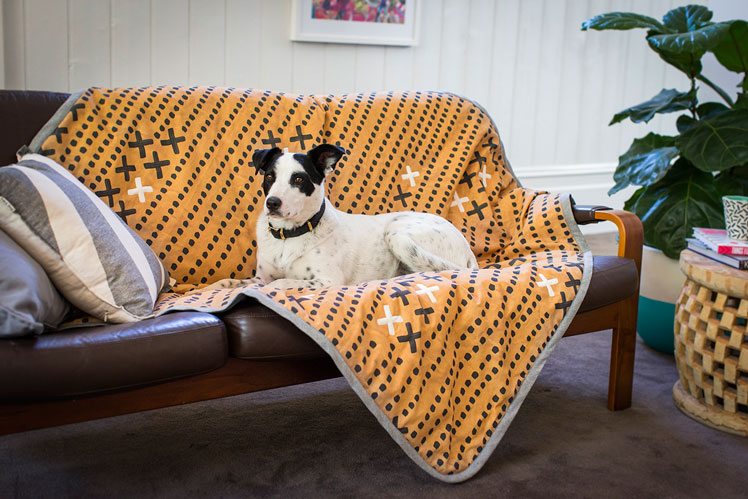 Any exciting plans for the future of Nice Digs?
We'll be at the upcoming Melbourne Finders Keepers Market (2nd – 4th Oct) and also the Rose Street Artists Market in the coming months. We'll have our entire debut range on offer plus a few new goodies to share. Pop down and say hello! We'll be sure to find the perfect set up for your furry little dude. We also have some very exciting collaborations and retail pop ups planned in the near future so keep your eyes peeled!
Huge thank you to Georgia for taking the time to talk to us about her amazing designs!
If you want to find out more about these beautiful creations you can find Nice Digs here…
Nicedigs.com.au
Facebook
Twitter
Instagram
Photography by Corey Wright www.coreywright.com.au