Maker Interview – Deborah Devaal Design
---
Deborah Devaal creates beautifuly screen printed sustainable textiles inspired by the wonderful flora and fauna this country has to offer. She takes great pride in her work and puts as much care and love into the packaging of her products as she does creating the pieces them selves. 
If you're a fan of nature and Australian handmade products you're going to love Deborahs work. Enjoy the interview!
Tell us a little about yourself. Who is Deborah?
I am an Australian/Dutch. Australian first because although I grew in Holland and moved to Australia when I was 20, I feel more like an Australian and I am really proud of my Aussie citizenship.
I grew up watching my mother and grandmother sewing all kinds of garments, from baby clothes to wedding gown. This started an interest in design for me from a young age. What started out as a hobby making pieces for friends and family turned into a business in 2014.
My inspiration is the Australian landscape and its incredible flora and fauna so when my first range landed in a National Park store it was a dream come true for me.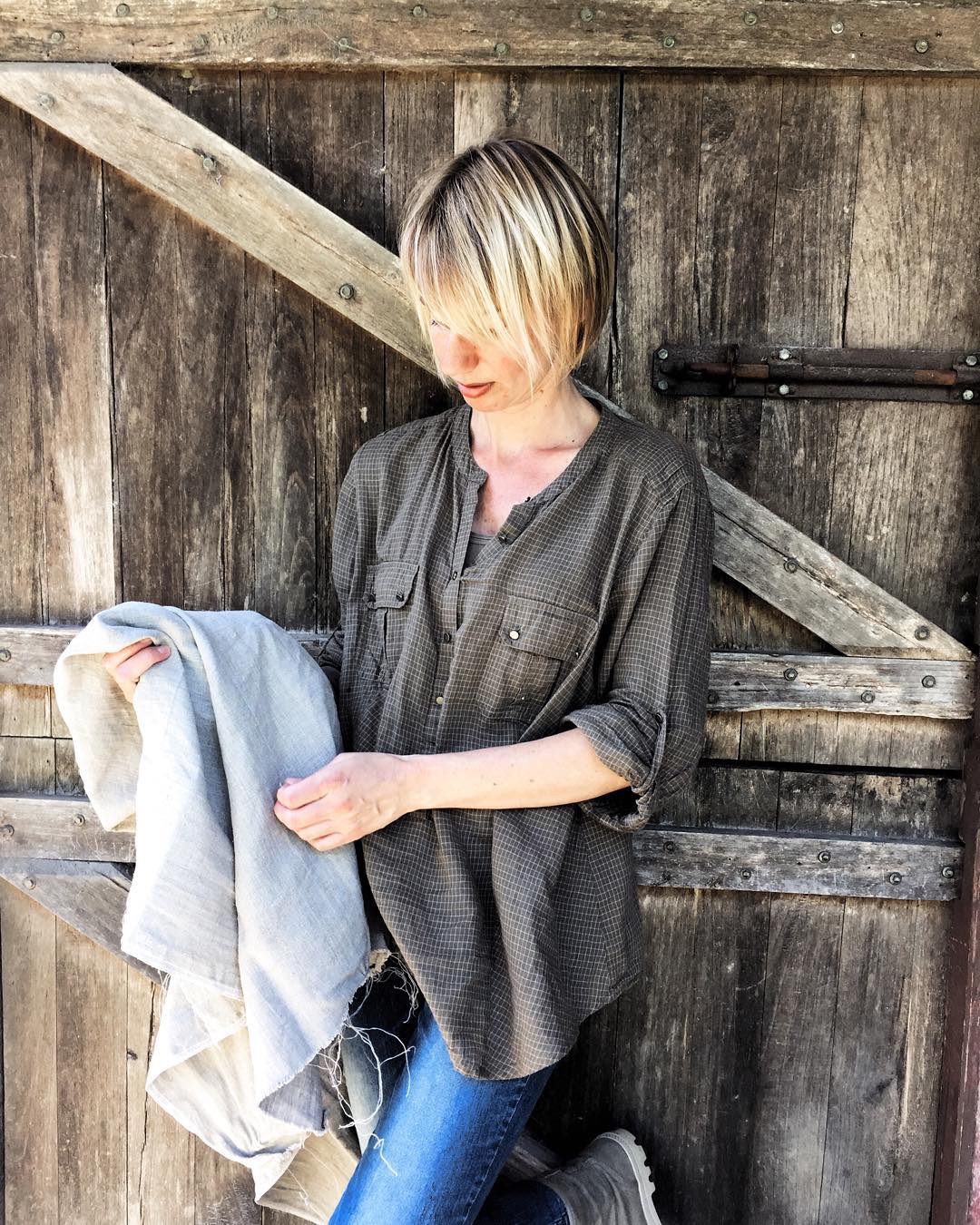 What does an average day look like for Deborah Devaal Design?
An average day starts pretty early in my house. I tend to get up at 5.30 am and use the couple of hours before my family wakes up to work on new designs, preparing fabrics that are going to be printed and mixing paints colours. Then after my children have gone to school I use the morning to screen print the fabrics. The screens get washed and dried between each colour or I'll change the design so this tends to take all morning to complete. While the fabrics and screens are drying I use the afternoon to sew, photograph products or package items for clients. The nights are for the more mundane tasks like working on the website, creating invoices and answering emails.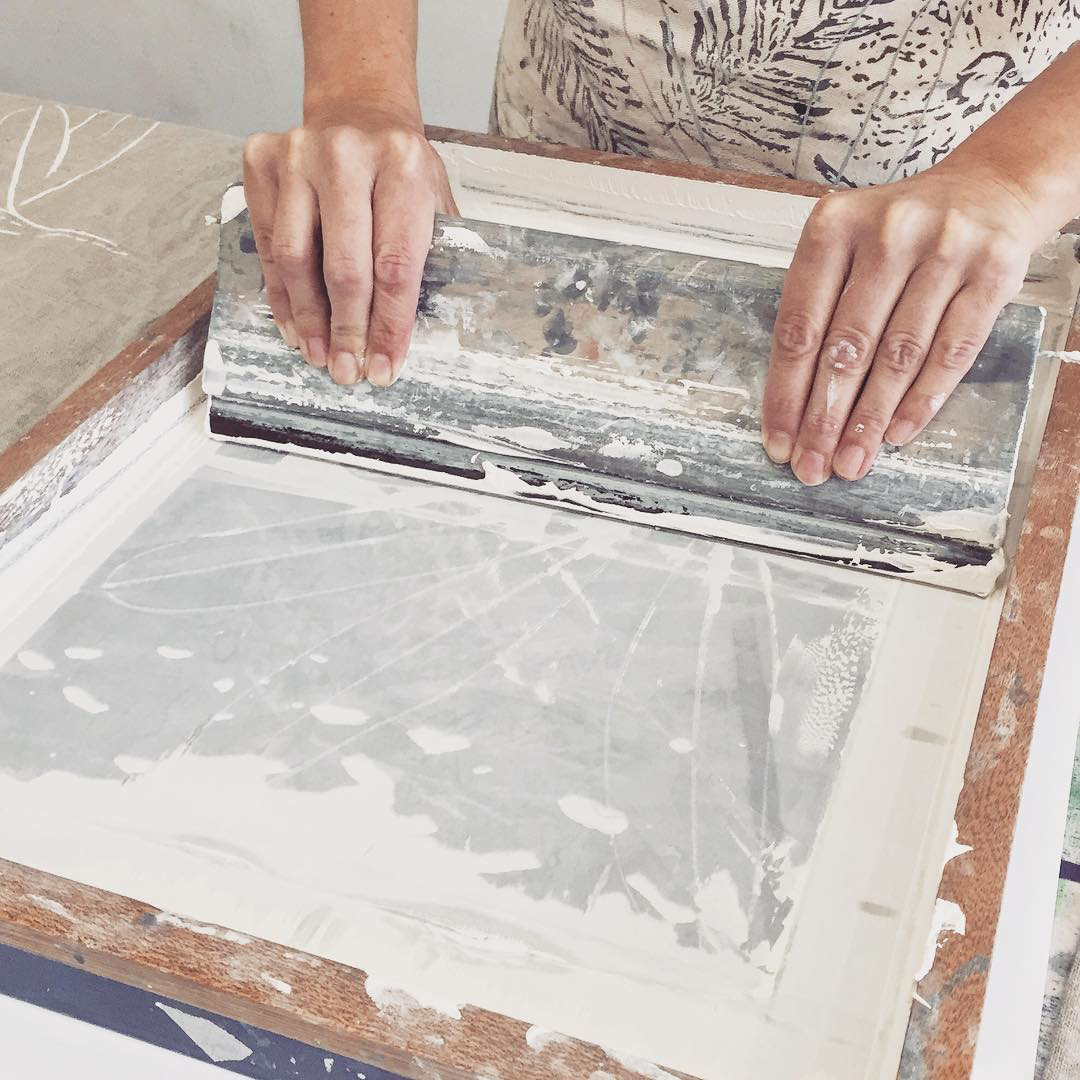 When did you get into screen printing?
A friend who runs art workshops introduced me to screen printing 5 years ago and I have been hooked ever since. I knew after that first pull of the squeeze that this was something I wanted to explore further. I have always been into design and this opened up a whole new different design process that can be quite challenging and is physical which is  exactly what I love.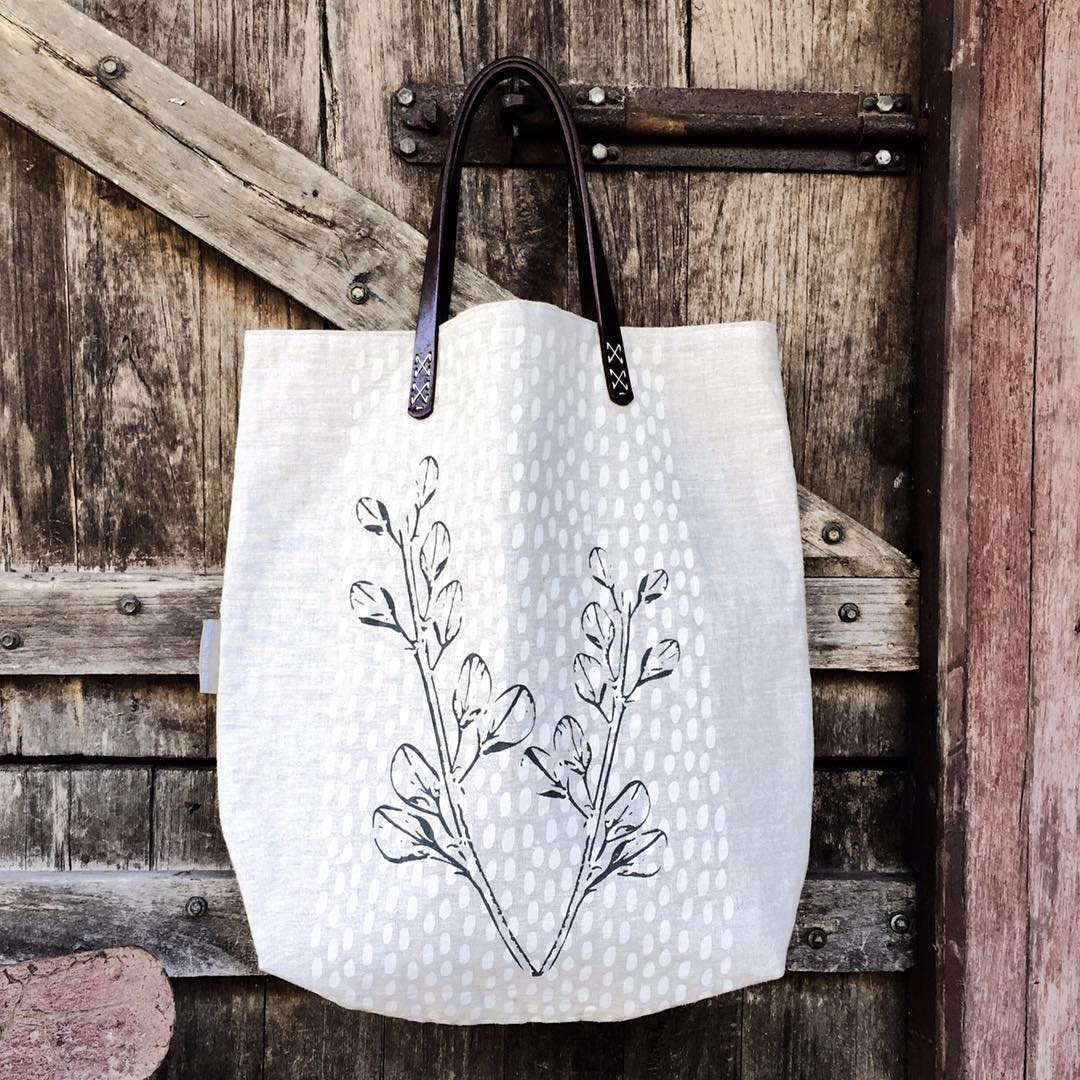 Tell us a little about your process. How do you create your designs?
The design process tends to start in a few different ways for me. It can be a beautiful fabric that gives me a vision of what it needs to bring it to life. Sometimes it's a plant in nature that catches my eye and gives me an idea that I then explore further, or sometimes even just a colour I come across (often in nature) that inspires me to create a design. I am a very visual person and find that inspiration is all around me really.
In the beginning I was sewing everything myself. As the business grew I was lucky to connect with a lovely qualified seamstress who has taken a large portion of that side of the production. This has freed me up to focus more on the design part of the business. I do still sew a small portion, I just can't help it I love all aspects of the design process and sitting behind a sewing machine is so therapeutic 🙂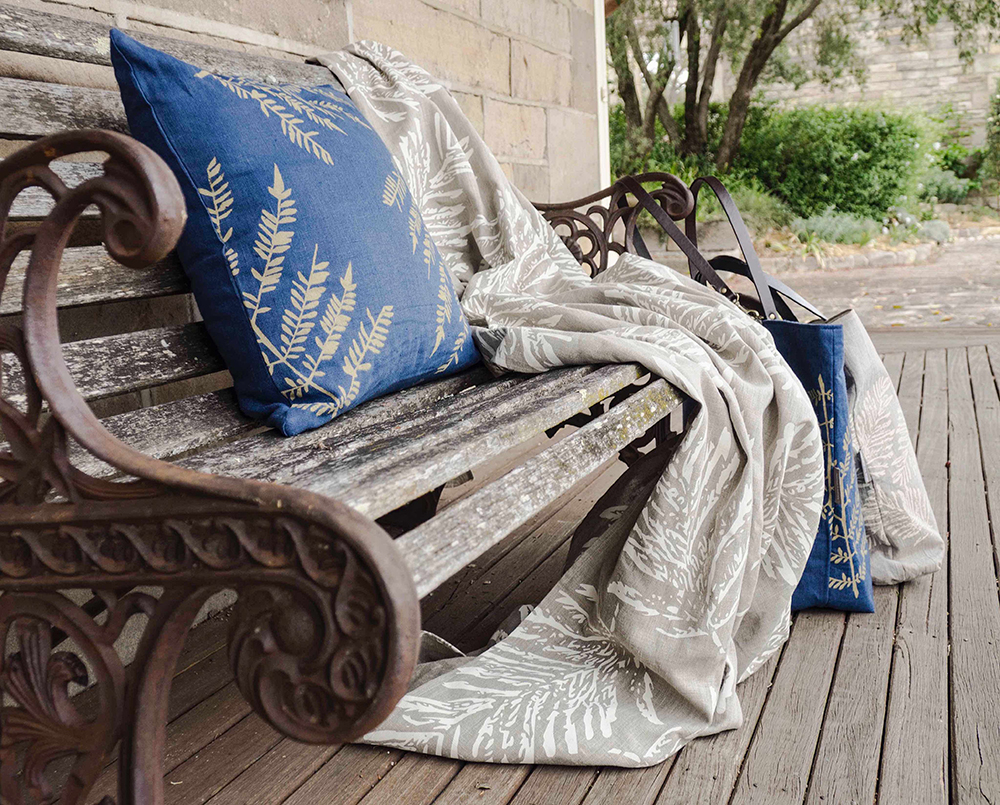 What's your workspace like?
I am very fortunate to be able to work from home. We live out of town in an old sandstone schoolhouse with a few acres of garden. I have my studio on the property with a view of the garden and this is where I design, print and sew. The studio has a large amount of foraged and found plant matter for inspiration and bolts of printed fabrics line the wall.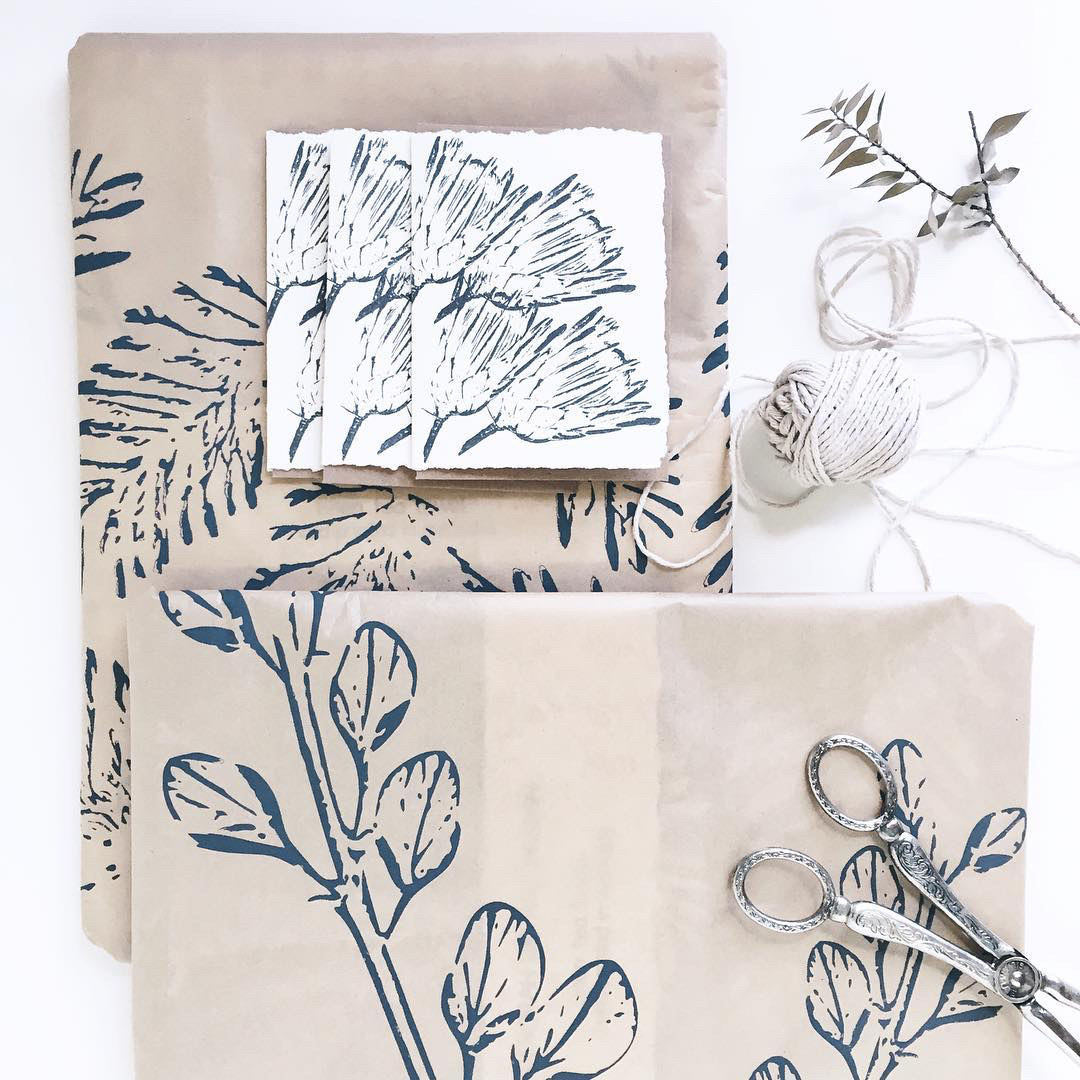 I know packaging is very important to you. Could you give us a little insight into how you package up your pieces.
I am so glad you asked me this question! I am obsessed with packaging and to me the way a product is packaged is just as important as the product itself. It is the last stage of the process but the first impression of a product. I screen print my designs on tissue paper and use that as wrapping paper accompanied with a hand written note for all my orders.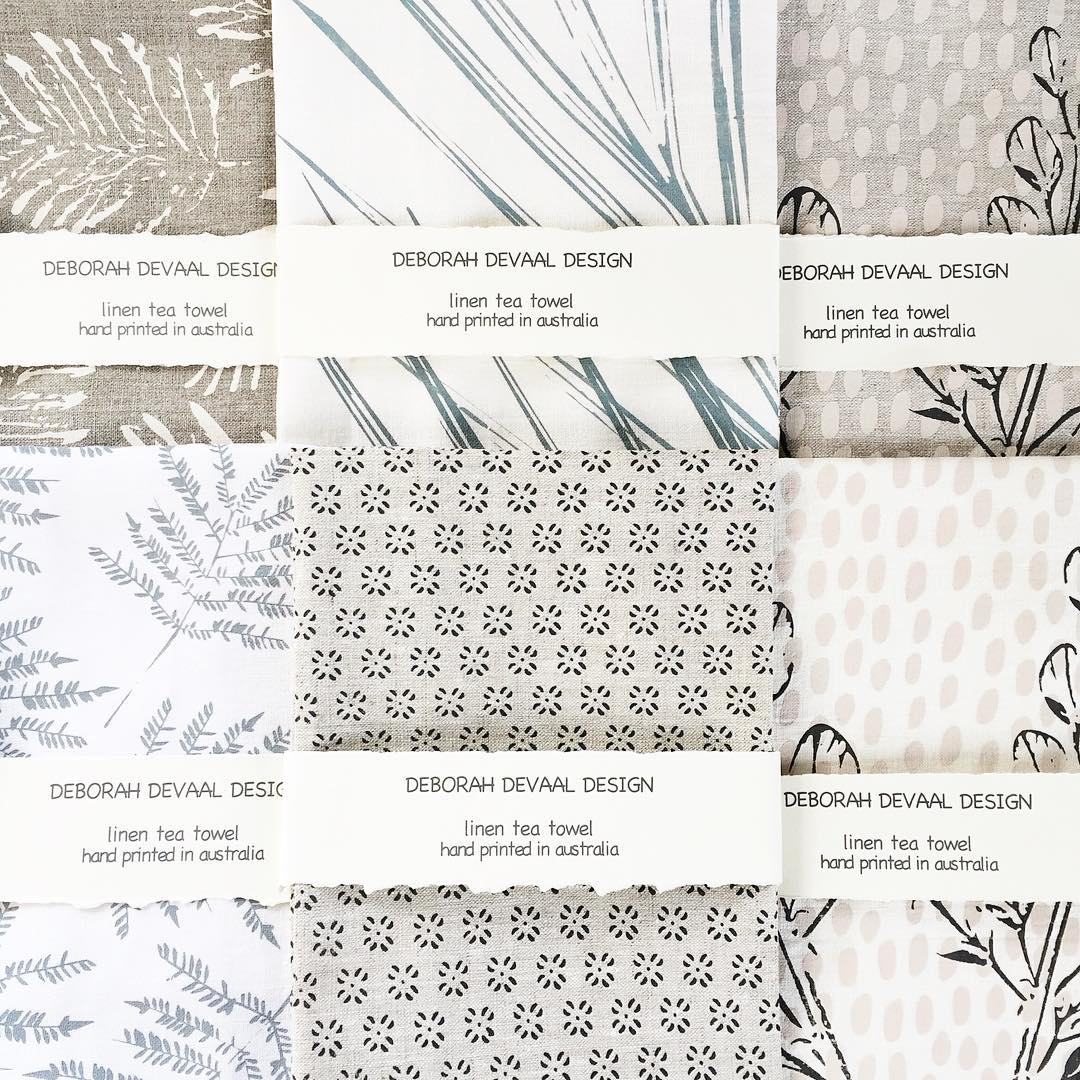 Do you dabble in any other mediums?
I have tried a few different media in the past. Spray painting I really enjoyed and working with acrylics on canvas, Lino cutting, they are all fun… but I always go back to the screen printing! I think I'm addicted!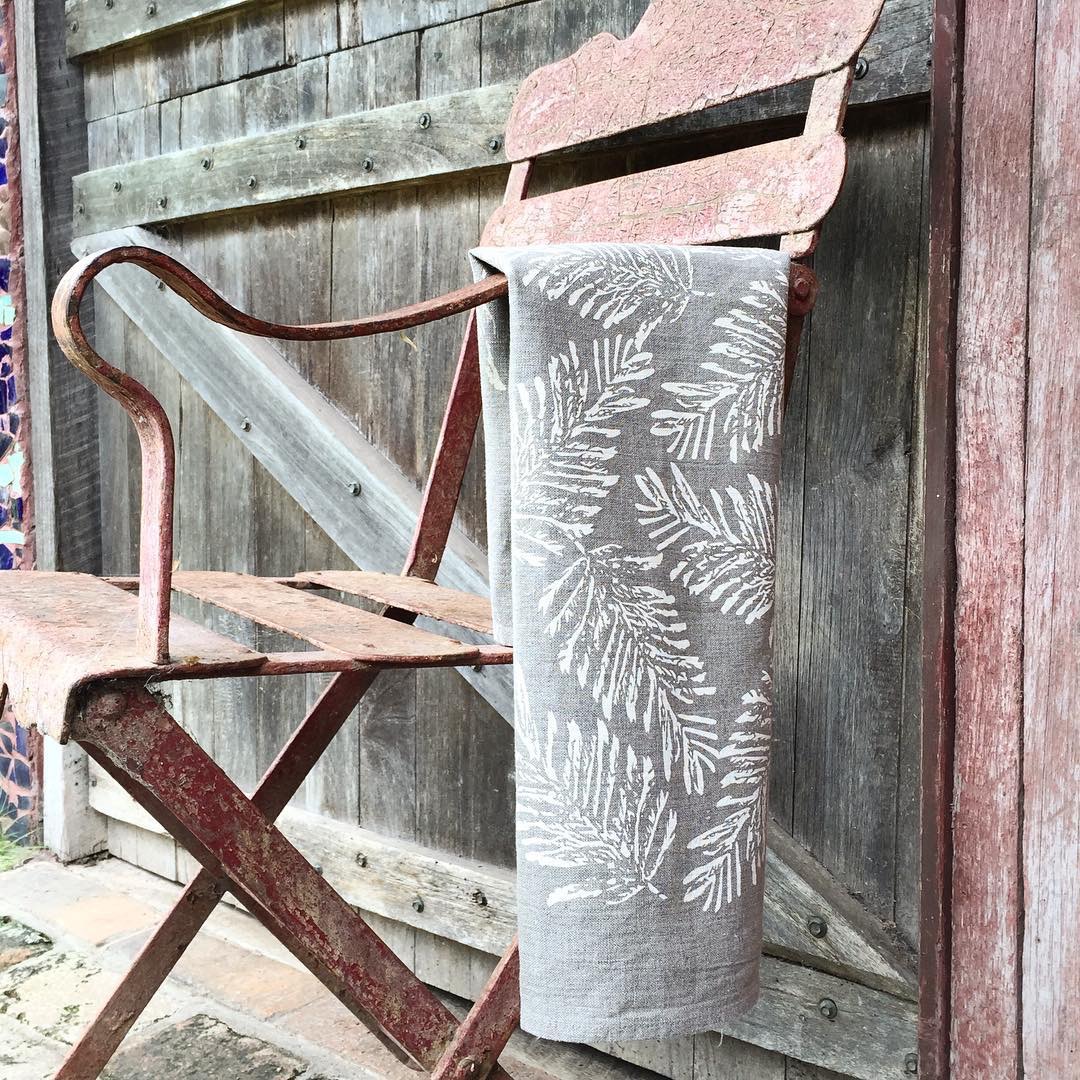 Your pieces are stocked around the country and even internationally. What's your advice for people looking to get their products in front of potential stockists?
Face to face is the best way to connect in my opinion. Go talk to them and show them your products if you can. Although talking about your own products to strangers is nerve racking.(I find it one of the hardest aspect of running my own business) it shows you really care by showing up. Being well prepared is the key for me. Know what you want to say, rehearse it, be brave and go for it. Approach those stockists you think would suit your products and if you get NO for an answer… Oh well at least you have tried and and hopefully taken away something from the experience 🙂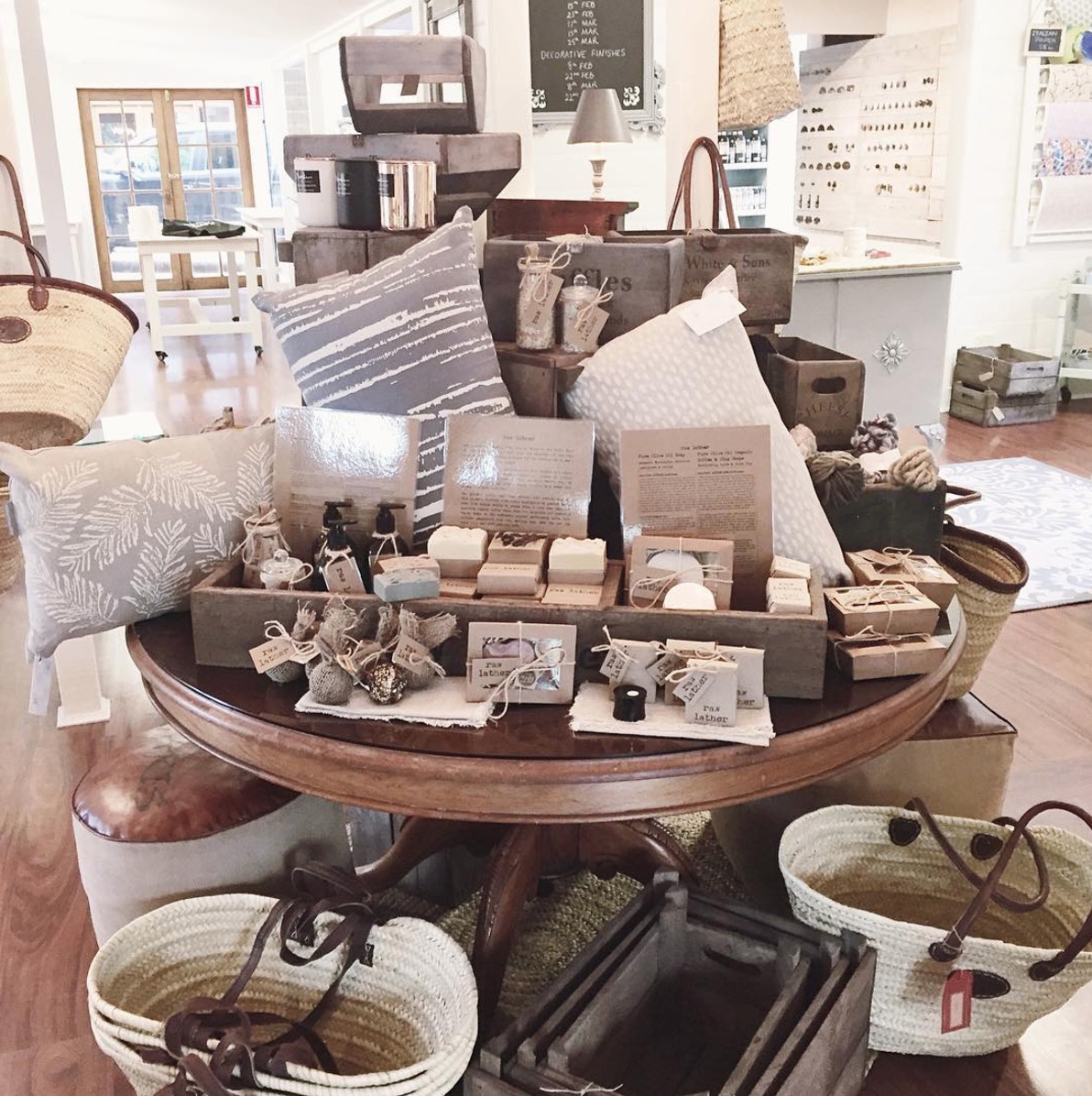 Some of Deborahs products looking beautiful in This Old House in Berry, NSW
Any other Aussie creatives we should know about?
I am inspired by people who are authentic, kind and have a great work ethic.
The work of Imby from Karmme (@karmmehq on insta) really stands out for me
and also the art work from Jaqueline Burgess (@jaquelineburgess)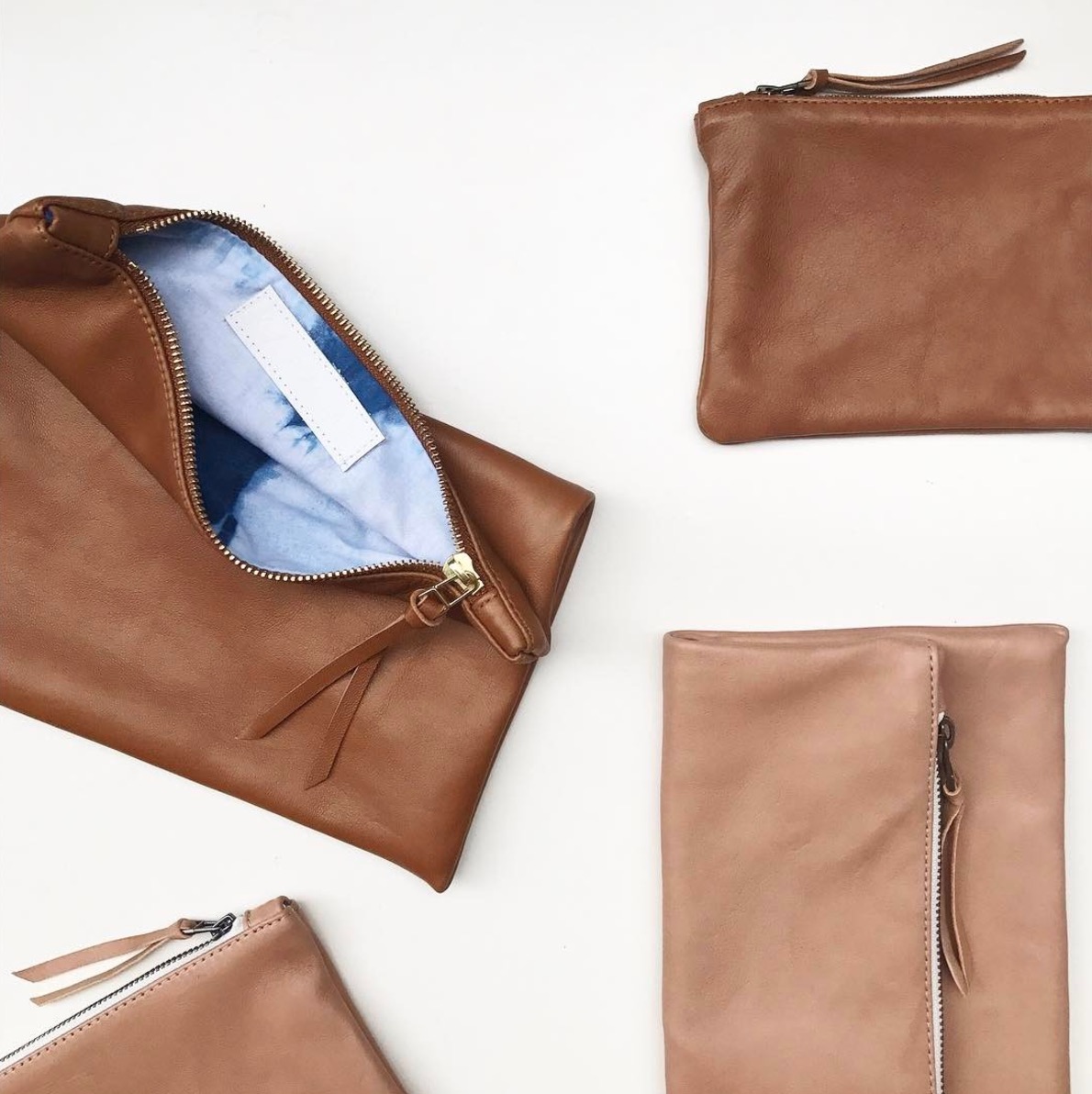 Karmme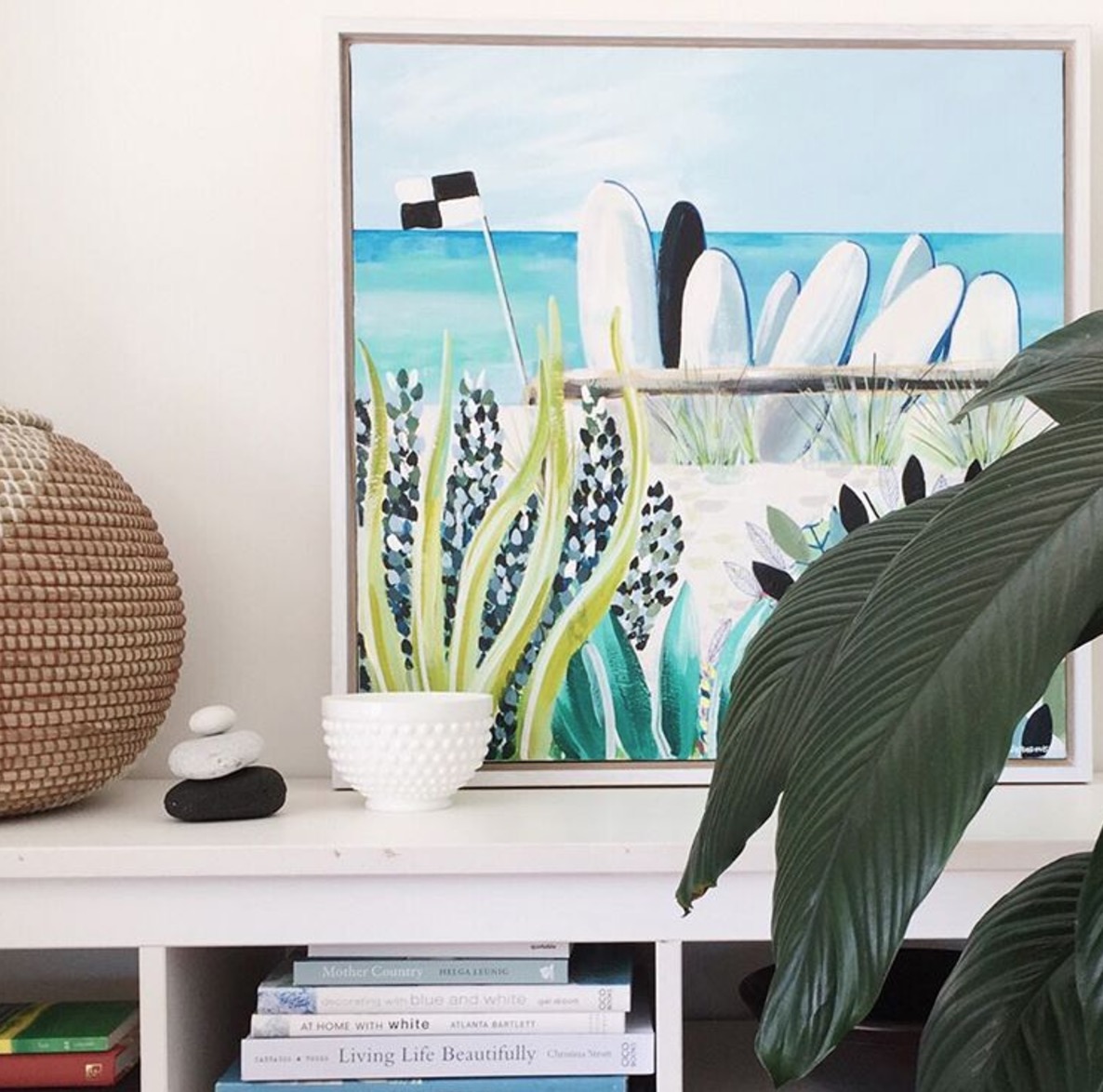 Jaqueline Burgess
Any tips for other handmade sellers wanting to boost their business?
You know your brand/products best. Know your market and stay authentic. Go with your gut feeling and if an idea feels right then explore it… Work with people who connect with you and who truly get you and your ideas. Share your success – this one is really important for me – because for me the growing of a business is not just measured in sales and dollars. Its also about the people you meet and share your success with. The incredible experiences and interactions you have with people who you would otherwise have never met are invaluable and often the best thing that can happen to your business.
Last of all, If you could travel anywhere in the world, all expenses paid where would you go? Tasmania! Without a doubt, it is number one on my list of places to visit this year. Tasmania's forests are Centuries-old, and are the lungs of our land.
This incredible place is one of the largest remaining intact temperate forest ecosystems on planet Earth and I think we need to show our children these places while they still exist and educate then on the importance of sustainability.
Want to see more of Deborahs work? Here's where to find her…
Instagram // Etsy // Website