Jeff McCann's wholesale style.
---
Jeff McCann is an artist with a very unique practice. All of his work is cardboard. Not just pretty coloured cardboard but proper, recycled cardboard box kind of cardboard. His style is very illustrative and just plain awesome!
Despite his work being so unique and time intensive he still sells wholesale as well as through his own retail channels. Here's a glimpse into his wholesale practices…
Tell us a little about yourself and how you came to working with cardboard as your main medium.
I studied Bach of Arts (design for theatre and television) at University in Wagga Wagga and used cardboard to make set and prop pieces. Continued playing with it as materials. Liked that I could draw/paint on it as well as build with it. Then it was just a down hill slop of endless opportunities.
I like to showcase the cardboard in everything I make. The construction and design is now just as important as the design I paint onto it. The object still has to be functional. I alway try to have a fun and approachable feel to my work.
Do retailers find you or do you seek them out? 
Bit of both. I get a lot of regional retailers and gallery contacting me. Sydney/city based is more for projects/events/collaborations and the retail side is generally a thing that follows.
I'm in the process of trying to secure Sydney stockists.
Have you done a trade fair before? If no are you interested?
No. They are so expensive and out of the realms of what I can afford at the moment. Plus I feel I need a bit more time to tweak my catalogues and products. I go to them for inspiration and see what is around.
Do you have a catalogue? Printed or digital? 
Yes. Digital. Wouldn't go printed. No essential, would rather get their details and follow it up myself.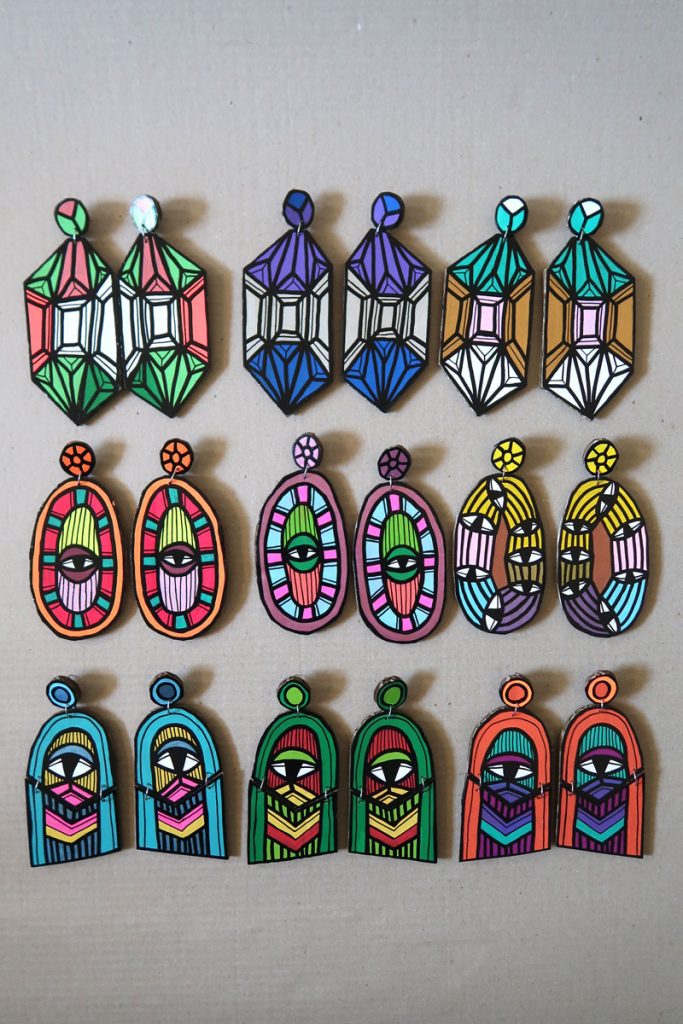 You products are very time intensive. Do you have a stock pile of products ready to go for wholesale or do you make to order.
Depends. If I have markets/festivals coming up I will get excess made. Mainly of my best sellers. I generally keep 1 spare on hand. Just incase I get an online order and I'm flat out on other projects and don't have time to make them.
Make to order is more time efficient for me in theory.

Any tips for managing client/retailer expectations
If there is something about your work that needs to show durability give the retailer an example of a well worn piece.
Be up front about all product details form the beginning. If there is an unknown element that you haven't experienced before just tell them.
Good photos.
Good communication.
Pricing is always a big hurdle a lot of makers struggle with when they are thinking about selling wholesale.
Do you have any tips/thoughts on pricing for wholesale? 
My cost is 50%. Yes you are getting a smaller amount of money for the product, but wholesale means the retailer is invested on moving the product. So its more of a state of mind.
Don't worry as much about what others price their work at. You do you. Be aware of your competitors but don't undercut yourself just to better the price of your competitor or secure a retailer.
Do you have S.K.U. codes for all of your products? 
No
Do you ask for a minimum order from retailers? Min quantities or min dollar value?
Yes. First order is $600 wholesale price. Any orders after that are $300 as we have built a relationship and they may only need a top up.
Jeff will be one of part of our Handmade Wholesale Live panel on the 14th of October.
Have you got your tickets yet?