Creating your first Handmade Wholesale catalogue
---
A good catalogue is a super important tool for selling to wholesale customers.
Whether it's printed or digital, it's your silent salesman. It needs to sell your product when you're not there to talk it up.
So what should be in a catalogue? Well, let's look into that. Here's a few things that should be included for your catalogue for it to be a success.

Nice product photos are essential for a catalogue. You need clear, well-lit images that show your products looking their best.
Ideally you'll have product shots on a white background for your product listings, and you'll also have lifestyle images that you can place throughout the catalogue. The aim of these 'lifestyle' images is to show the products as they are intended to be used, or at least to show the style of the overall collection. They should evoke the personality and feeling of your brand.
As your pieces are handmade, it would also be great to show a few images of you making the product. This will help your customers really connect to the idea that you, yourself actually make the pieces. This also creates a lovely story for the sales assistant to tell the retail customer.

Remember – everyone judges a book by it's cover, so make it a good one and choose a gorgeous styled image for your cover. You need something that makes people want to open it up and see what else is on offer.

Photography can be a very daunting topic for a lot of people. Trust me when I say you don't need to be a professional photographer with a super expensive camera to get effective images for your catalogue. If photography isn't your strong point, stay tuned, we'll dive deeper into product photography in a later article.


Product names and SKUs
As we talked about in part two, each of your products should have a particular code assigned to it. Before you publish your catalogue, be sure to double, triple, quadruple check you have the right name and code with the right item image! This will make it easier for your customers to communicate with you about the products in your range that they would like to stock.
Pricing and MOQ
There are a few ways you can show your product pricing. Some choose to have a separate price list rather than print prices in the catalogue itself. This can be good option for a few reasons. If the price of an item changes, your catalogue is still relevant and you can simply supply a new price list. Another advantage of not including your pricing in the catalogue is that your retailers could then use your catalogue with their customers in store to show them other products you have available. If you have wholesale price is listed, they are likely to keep your catalogue out of sight of customers.
Having said this, including your prices means the retailer doesn't need to fumble around and find your detached price list when they are ordering product from you. All the information is there in the one place. Nice and easy. 
Product measurements
Including the size of the products is really helpful when the buyer can't see the pieces in person before making a purchase. If you're working with an item that can slightly fluctuate in size from one piece to another you can simply write an approx measurement. Any variations in size, colour etc. should be noted in the catalogue so that the customer knows what to expect. You can also show scale by including styled photos showing the pieces with everyday objects, or on a model, depending on what suits your products.
Product listings
Each product listing should include the following…
A clear photo of the product
The product name and SKU
Product measurements and materials
(If all products on the page are the same, this could be at the top of the page.)
Wholesale price, RRP and MOQ (optional – you may choose to include this separately)
Here's two examples of how you may want to layout your product details. These are just two simple suggestions. The options are endless! – Like my little cactus cards? 🙂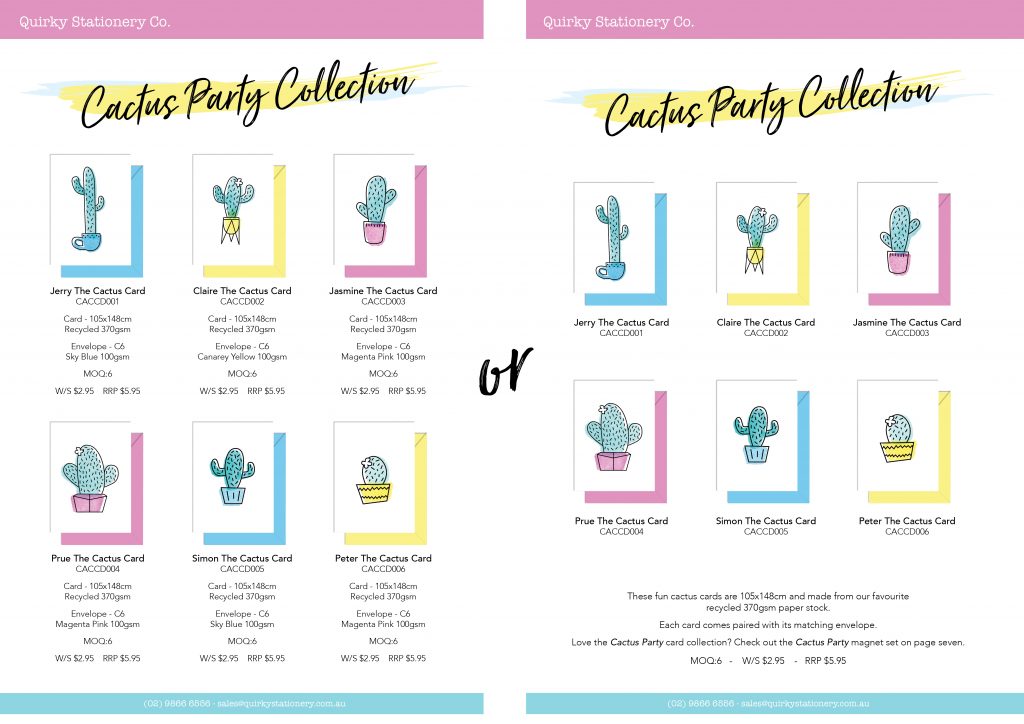 Contact details
Include your contact information on the footer of every page, on your last page and on your price list (if you choose to separate the pricing from the catalogue). You want to make it as easy as possible for the retailer to place an order with you or get in touch if they have any questions.


You should include a section of terms and conditions in the back of your catalogue. In this section you can cover topics like…
Payment terms – how long the retailer has to pay an invoice, and the ways that you accept payment.
Delivery information – how you intend on shipping the items, and an agreement of who will pay the shipping cost. If there's a long lead time on your products – for example, because they are made to order –  it may be best to include something along the lines of, "As our products are all handmade in our studio there can be a lead time of up to _____ days/weeks after the order is placed."
Minimum order requirements – note down what your minimum order requirements are so that the retailer has an easy reference to look back on when placing their first or follow up orders.
E.g. "Each product has a minimum order quantity. Opening orders require a minimum spend of $400. All follow up orders only required a minimum of $150."
Tell your story and your product story
It's a good idea to include a section in your catalogue about you. Including a photo of yourself can really help the retailer to connect to you as a person and a maker, rather than just another faceless wholesale company.
Your products are handmade, therefore, they have a story. You need to help the retailer see that. Look at your product, and think about what inspired you to make it. Where was it made, and why? Is there anything else that sets your product apart from others?
Any information you can give the end consumer about why your piece is so special will help it to fly off your retailers' shelves.
Maya Queenan has a great "about" page on her website that tells all about her and her products. Well worth a read. It's brief (in a good way) and it tells the customer all about Maya – the designer/maker, her process and the ethics behind her work.
http://www.mayamusetextiles.com.au/about/

Digital Vs. Print – which do I need?
Ideally both.
A lot of retailers hold onto your printed catalogue and pull it out when they need to place another order.
If you really don't have the budget for a printed catalogue, then online-only is fine to start off.  However, I would recommend having something small that is printed so you can leave it with a store if you visit. A little post card or flyer would do, as long as it includes all the relevant details of how they can view your collection, and how they can contact you. If your catalogue/website is mobile friendly, you could include a QR code on your card. This allows the retailer to access your information quickly and easily. However, this isn't for everyone, so make sure you include your URL as well.
If you're choosing the online-only route, make sure it's always up to date. They ideally need to be able to access wholesale prices through this website (through a log-in), or at the very least you need to make it clear how they can contact you to get a wholesale price list.
Everything mentioned above still applies for a website/digital catalogue.
Proofreading is essential.
If a product code is incorrect this can cause big problems for you down the line.
If a product size is incorrect or something is wrongly described, the retailer is well within their rights to send it back, and you'll be required to give them a refund.
What size should my catalogue be?
Print
There is no rule to this,  but as a graphic designer, I would recommend an A4 or A5 bound booklet. There are pros and cons to either size.
A4 gives you room for larger images, and you can fit more products to a page. A5 is cheaper to produce as it's half the size, but it may mean you need more pages to fit all of the information. A4 will sit nicely on a shelf with other A4 folders and catalogues. A5 will usually be small enough to include with every order you send out. You need to think about which option is best for your business, and which the retailer will be more likely to be willing to store, if it's in physical form.
Digital
If you're emailing your catalogue, try to keep it under 8MB. Any larger and you'll start to be rejected by some email servers, and you'll just be filling up their inboxes quickly. If your file is larger than this, and you can't reduce it any further, I would recommend sharing a dropbox link with your retailer so that they can download the file directly.
You could also have your catalogue hosted somewhere like Issue, where the retailer can flick through the pages without needing to download the catalogue. Some retailers do prefer to be able to print things off, rather than looking at a screen, so even if you have a digital catalogue on Issue, I would still have a PDF ready to go in dropbox as well.
How much does a printed catalogue cost?
How long is a piece of string? Ok, that was a little cheeky but it's fitting…
This is a hard one to answer because there are so many variables involved. What size? How many pages? Will the paper be thick, thin, matte or glossy? Do you have someone who can design it for you? How many do you want to print? How do you want it to be bound? The list goes on.
I've done some digging, and I can give you a very rough ballpark figure. However, please note that prices can fluctuate from printer to printer, and of course it all depends on exactly what you want in your catalogue.
I did a calculation based on the following…
50 copies, A4 Size, colour printing, 20 pages, paper at 170gsm internal and cover.
In a digital print process, this will set you back around $400(AUD).
If this is going to blow the budget, perhaps think about a folded brochure or even a well printed double-sided A4 piece on some nice thick paper that you could print at home. The goal here is to give the customer something they won't lose or throw out. It needs to be something they want to hold on to.
How do I get a catalogue designed? Can I do it myself?
Ideally, it would be best if you worked with a graphic designer to create your catalogue. Some printers do offer design services. Again, each company is different and will charge according to the different services they offer. Ask to see work from their current design team before signing up for anything. You want to make sure they can do what you want.
99designs could be a good solution if you want to outsource your catalogue design, but have a limited budget. The way 99designs works is that you post the job on their website and designers from all over the world will submit designs for you to choose from. Once you choose a designer, you work with them to finish the job and they get paid accordingly.
You can design your catalogue yourself, but I would recommend only attempting this if you have some knowledge of design programs such as Adobe InDesign. If you're interested in teaching yourself, there's plenty of courses available online that can teach you the basics you will need to get started.
There is also a great Creative Live class lead by Katie Hunt, that talks all about catalogues for makers selling wholesale. It's a paid class, but it's well worth a watch. In fact, all of Katie Hunt's classes are great. Highly recommend! They don't talk about actually designing the catalogue, but they do go through some great points.

How do I get my catalogue in the hands of retailers?
I would always recommend calling the store and chatting to the appropriate member of staff (store manager, buyer, owner etc.) before sending your catalogue over. Introduce yourself politely, and ask them if they have some time for you to talk to them about your business and the products you make.
If they sound interested, go ahead and ask for the best address to send a catalogue to, or ask if they would like a digital copy emailed to them.
If you send them a physical catalogue, include a little handwritten note addressed to the correct staff member. It's little touches like this that can make you stand out from other sellers.
—
In the next few posts we'll go deeper into approaching retailers, so stay tuned!
Sign up for our Maker Mail and join our Facebook Group so you don't miss anything.
I hope this article has cleared up a few questions you might have had about your catalogue. If you're still a bit hazy about anything, please don't hesitate to get in touch! Pop on over to the Facebook group and lets chat! 🙂
In the next article we'll talk about how to find retailers to approach with your product. Stay tuned!
Dom. x
P.S. This is the first article in our little handmade wholesale series. In case you missed them pop over and check out part one and part two. Yeah!